Galápagos Conservancy Celebrates the ABG's 10th Anniversary
Date: 10/24/2022
//Versión es español abajo.//
Among the most serious challenges to the integrity of Galápagos ecosystems are invasive species. Introduced species threaten the survival of endemic species in the Islands by outcompeting native flora and fauna. In order to prevent exogenous species from entering the Archipelago and to protect terrestrial and marine habitats, it is a priority to support the work of the Agency for Regulation and Control of Biosecurity and Quarantine for Galápagos (ABG). 
Galápagos Conservancy is honored to support the work of the ABG and congratulate its 171 highly trained professional and committed staff members during its 10th anniversary celebration on Santa Cruz Island. In his speech at the anniversary ceremony, Washington Tapia, the General Director of Conservando Galápagos, an affiliate of Galápagos Conservancy, said the ABG is an essential institution for ensuring the conservation of Galápagos biodiversity due to the fact that invasive species are a complex problem that requires constant attention.
In October 2012, the ABG was established by presidential decree and attached to the Environmental Ministry. In order to prevent, control, and reduce the risk of exotic organisms entering, moving, and dispersing in the Galápagos province by any means that endanger human health, the economy, and agricultural activities, its mission is to control, regulate, prevent, and reduce such risks.
An agreement between Galápagos Conservancy and the ABG is in place to ensure that control measures are strengthened and that the Giant African Snail (Lissachatina fulica) does not spread throughout the Islands. Introduced in 2010, this snail is one of the most aggressive introduced species, very dangerous for the environment and for the economy and health of the local community, as it damages crops in the agricultural sector and can transmit a parasite that causes meningitis. "Our cooperation included delivering two specialized canines for inspection and control as part of strengthening the canine brigade and increasing efforts in the fight against Giant African Snails. This includes the necessary training and training for the five ABG officers who will serve as guides for the trained dogs," Tapia said.
As Tapia pointed out, the world's eyes are on Galápagos conservation: "Here we find a high degree of endemism of species, leading this archipelago to be regarded as a major natural heritage site for humanity." In recognition of the outstanding efforts of the ABG to protect Galápagos biodiversity and contribute to its local population, we congratulate all members of the organization.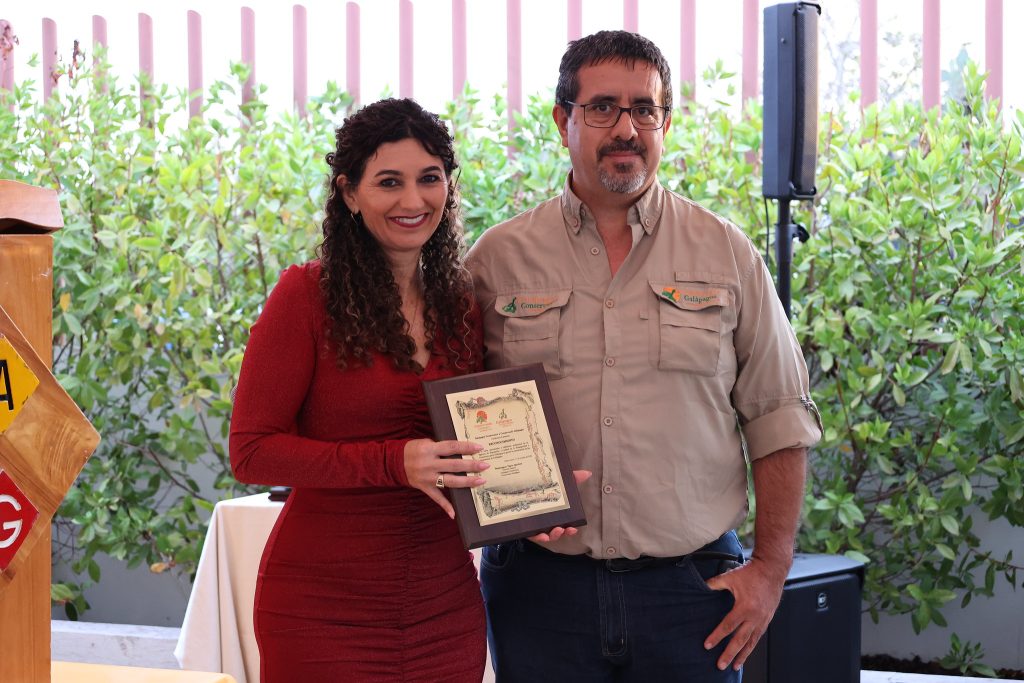 Galápagos Conservancy se une al festejo de los 10 años de creación de la ABG
Las especies invasoras son una de las principales amenazas a la integridad de los ecosistemas de Galápagos, por eso, Galápagos Conservancy se enorgullece de apoyar las labores de la Agencia de Regulación y Control de la Bioseguridad y Cuarentena para Galápagos (ABG), y felicita a los 171 funcionarios que conforman este equipo humano altamente profesional y apasionado por la conservación, que el 17 de octubre festejaron 10 años de creación institucional.
En la ceremonia de aniversario, el Director General de Conservando Galápagos, filial de Galápagos Conservancy, Washington Tapia, destacó la labor de la ABG como una de las instituciones esenciales para asegurar la conservación de la biodiversidad de Galápagos, dijo que las especies invasoras son un problema de gran complejidad y demandan esfuerzos permanentes.
Galápagos Conservancy mantiene en vigencia un convenio de cooperación con la ABG, particularmente para fortalecer las acciones de control e impedir la propagación del caracol gigante africano (Lissachatina fulica) en las islas, una de las especies introducidas más agresivas que fue reportada por primera vez en Galápagos en el 2010.
"Como parte de esta cooperación entregamos dos canes especializados para realizar actividades de inspección y control a fin de fortalecer la brigada canina y sumar esfuerzos a la lucha contra el caracol gigante africano, esto incluye el entrenamiento y capacitación necesaria a los 5 oficiales de la ABG que serán los guías de los canes entrenados," señaló Tapia.
Las especies introducidas amenazan la supervivencia de las especies nativas y endémicas de Galápagos, por eso es prioritario respaldar el trabajo de la ABG para asegurar la protección de los ecosistemas insulares y marinos y prevenir el ingreso de especies exógenas al archipiélago.
Tapia destacó que los ojos del mundo están puestos en la conservación de las Galápagos, "aquí encontramos un alto grado de endemismo de especies, lo que ha llevado a que este Archipiélago sea considerado uno de los principales patrimonios naturales de la humanidad, por eso felicitamos a todos quienes hacen la ABG y reiteramos nuestro compromiso de seguir respaldando sus esfuerzos por proteger la biodiversidad de Galápagos y contribuir al bienestar de la población local."
La ABG fue creada mediante decreto presidencial, adscrita al Ministerio del Ambiente el 17 de octubre de 2012, su misión es controlar, regular, impedir y disminuir el riesgo de introducción, movimiento y dispersión de organismos exóticos, por cualquier medio, que ponga en riesgo la salud humana, el sistema económico, las actividades agropecuarias en la provincia de Galápagos.
The Latest Conservation News from Galápagos