30 New Species of Marine Invertebrates Discovered in Galápagos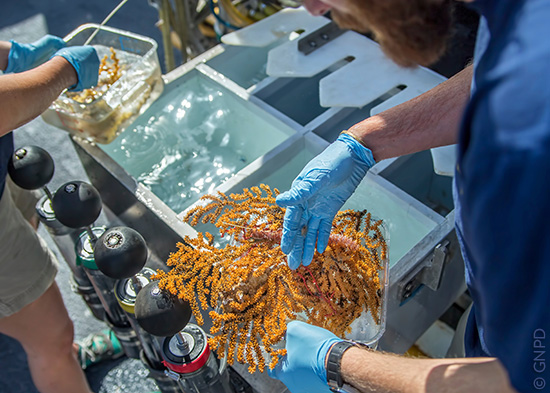 An investigation in the deep protected waters of the Galápagos Marine Reserve has identified 30 new species of marine invertebrates, including four species of squat lobsters, one species of giant cup coral, ten species of bamboo corals, three species of octocorals, one species of brittle starfish and eleven species of sponges. The exploration also revealed the presence of a series of underwater communities between depths of 290 and 3,373 meters, including multiple fragile habitats such as crystal sponge gardens, coral gardens and cold-water coral colonies.
This research was carried out in 2015 during a 10-day cruise aboard the E/V Nautilus, a research vessel specialized in exploring the unknown depths of the ocean up to 4,000 meters. The expedition explored three seamounts for the first time, which do not break the surface, located around the islands Darwin and Wolf.
Two remotely operated underwater vehicles (ROVs) were used for the exploration, Argus and Hercules, in addition to seabed mapping systems. Biological samples were collected using the manipulator arm of the ROV, and individual organisms were separated, photographed and stored. At the end of the cruise, the specimens were sent to renowned deep-sea experts for identification. The results of this research were published today in the journal Scientific Reports.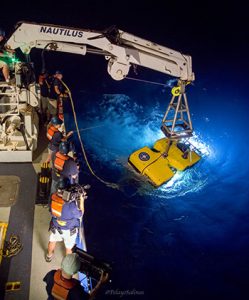 "This finding confirms that Galápagos is a living laboratory with biological and ecological processes underway and yet to be explored, which make it an exceptional site that deserves all our efforts to be conserved," said Paulo Proaño, Ecuadorian Minister of Environment and Water.
Danny Rueda, director of the Galápagos National Park, acknowledged that the depths of the Galápagos are home to some of the most diverse habitats in the Archipelago that support the islands' biodiversity.
This research was made possible by collaborations with the Ocean Exploration Trust, the Charles Darwin Foundation and the Galápagos National Park Directorate, with support from the Office of Exploration and Research of NOAA to fund the E/V Nautilus Exploration Program, the Helmsley Charitable Trust, and the Gordon and Betty Moore Foundation.
Based on a press release from the Galápagos National Park, translated with their permission.
The Latest Conservation News from Galápagos