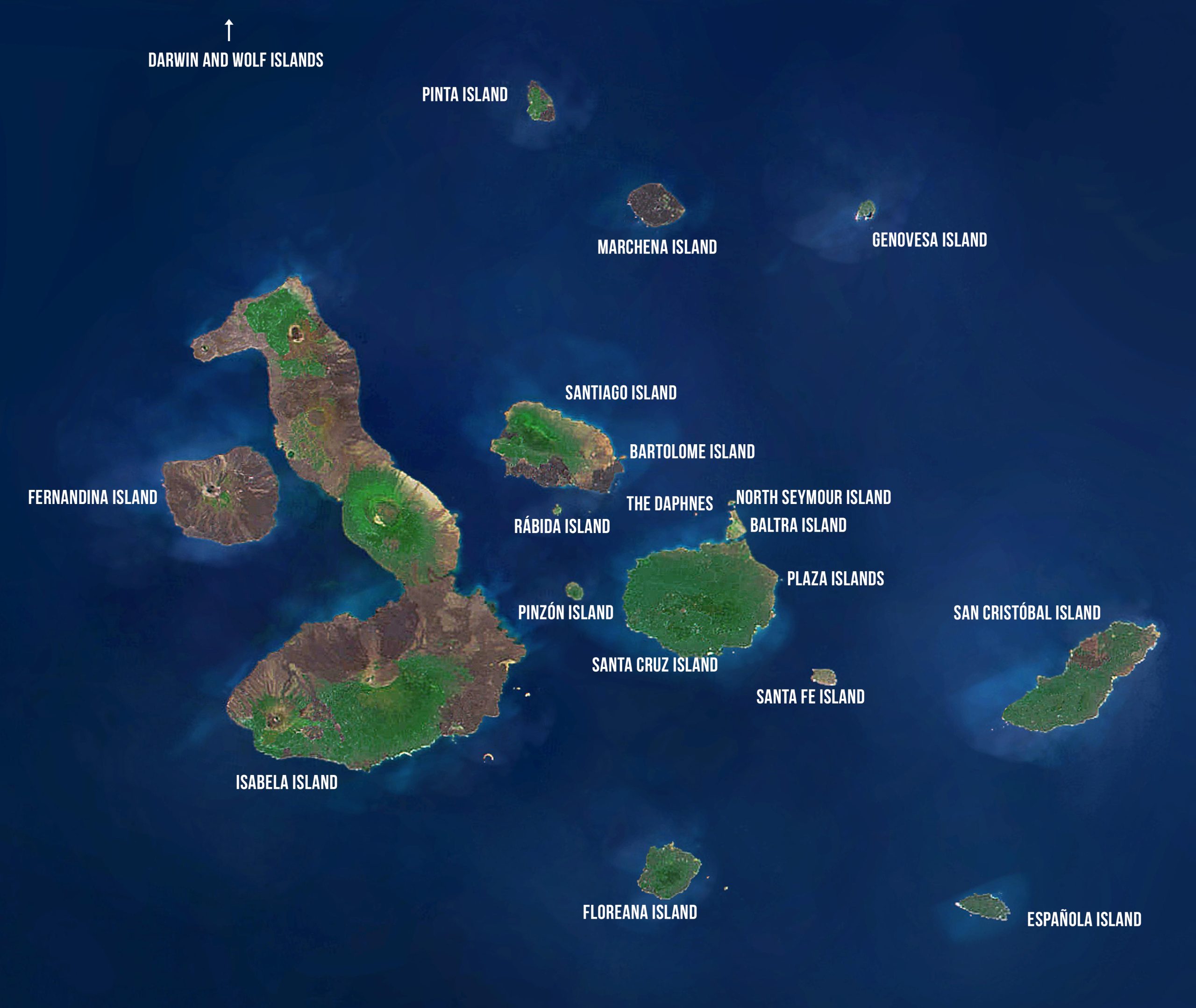 Area: 1.83 km2 or 1.14 mi2
Maximum Altitude: 28 m or 92 ft
Human Population: 0
HISTORY
Named after the English nobleman Lord Hugh Seymour, North Seymour was formed by a series of uplifts of submarine lava along with Baltra (also called South Seymour) and the northeastern part of Santa Cruz, resulting in flat plateaus. In the early 1930s, members of the Hancock Expeditions moved approximately 70 land iguanas from Baltra Island to North Seymour in order to provide better conditions for their survival, as introduced goats were destroying the habitat on Baltra and contributing to their declining population. Land iguanas are not native to North Seymour Island.
TODAY
North Seymour is now home to nearly 2,500 land iguanas, according to a 2014 census by the Galápagos National Park (GNP). This island also hosts large populations of blue-footed boobies, swallow-tailed gulls, common noddies, and frigatebirds.
CONSERVATION CHALLENGES
Introduced rats were eradicated from the island as a pilot project prior to the rat eradication campaigns on Pinzón and Rábida Islands. However, rats may eventually repopulate North Seymour, swimming from Baltra to Mosquera to North Seymour.
Visitor Site: North Seymour
The trail on North Seymour includes a short loop or an alternative longer loop, providing visitors with ample opportunity to observe the largest colony of magnificent frigatebirds in Galápagos, blue-footed boobies, and land iguanas, as well as sea lions and marine iguanas along the coast. At times in the past, marine iguanas on North Seymour have been observed eating land vegetation, a very unusual behavior for this species.
Visitor Site: Mosquera
At 120 meters by 600 meters, this small, flat, sandy islet sits in the channel between Baltra and North Seymour and is almost devoid of vegetation. It has one of the largest populations of sea lions and its sandy expanses offer visitors the perfect opportunity to observe sea lion behavior. It is also a beautiful site to observe lava gulls, coastal birds, and Sally lightfoot crabs.
Marine Site: North Seymour and Mosquera
There are three dive sites around North Seymour, along the line from the northeast corner of Baltra to Mosquera, from Mosquera north to the southeast corner of North Seymour, and in the northeast zone of North Seymour. All of these sites provide good opportunities to observe sea lions, large schools of fishes, some sharks, rays, and sea turtles.
The Latest Conservation News from Galápagos